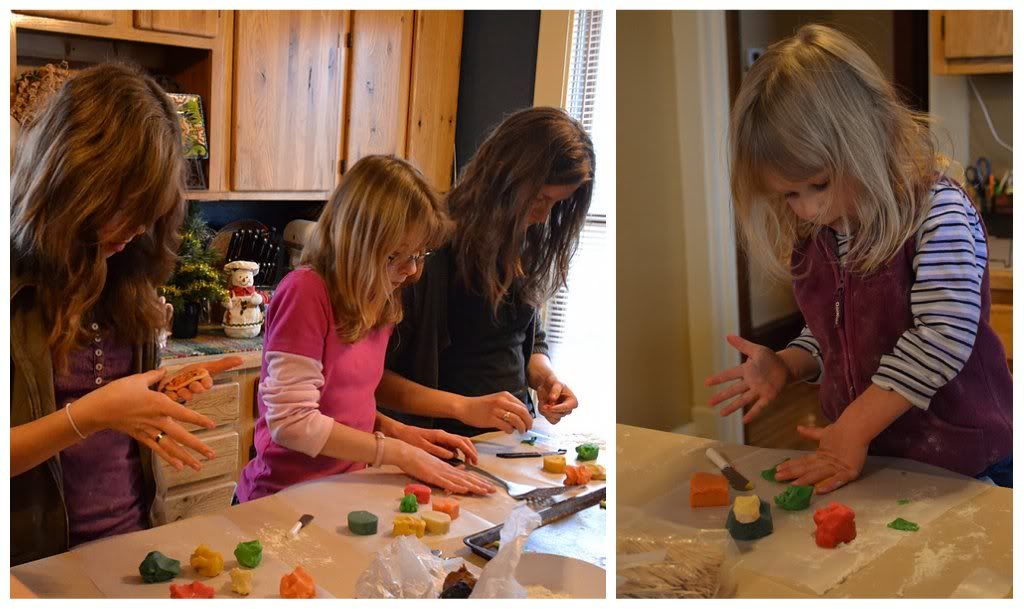 Last Sunday our whole family went to our friends house to bake cookies. The kitchen island was just big enough for ten kids to squish around as we designed our cookies. We ended up with quite a wide variety of shapes and designs, ranging from a Christmas theme of wreaths, snowmen, reindeer, presents, Christmas trees, penguins, and manger scenes to other creative creations. There were frogs catching flies, monkeys riding on elephant backs, monsters, pizzas, cameras, fruit baskets, and even a few that were just a interesting mixture of all the colors combined.
Squishing and molding the dough until it's shaped just right...
I'm still trying to decide what the cause of my interesting expression in that picture is...I think it may have had something to do with the way my reindeer's antlers were turning out. It's pretty safe to say that I'm not the most creative person when it comes to designing cookies.
Laughter and lively chatter filling the kitchen. The scent of freshly baked cookies drifting through the air. Christmas lights sparkling throughout the house.
I love the Christmas season.